Reliable Electricians
for the Denver
Front Range
Welcome to Table Mountain Electric Inc., Denver's trusted name in premier electrical solutions. Nestled in the heart of the Mile-High City, we pride ourselves on powering Denver homes and businesses with the finest in electrical craftsmanship.
From essential services such as electrical panel upgrades and panel replacements to intricate basement electrical wiring for your renovation needs, our expertise shines through in every project. Considering a modern makeover for your kitchen? Our adept team ensures seamless kitchen wiring, keeping pace with your remodeling dreams. We understand the pulse of Denver's electrical requirements, making us the go-to electrician near you.
Our commitment doesn't stop at just home solutions. We offer a comprehensive suite of services, including commercial electrician tasks, EV charging station installs, and outdoor lighting setups. For those in need of specialized services like A/C wiring, furnace wiring, or even hot tub wiring, look no further. With Table Mountain Electric, you're not just investing in a service; you're investing in a legacy of trust, quality, and unparalleled expertise.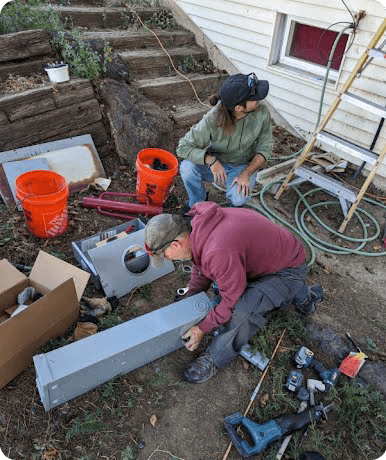 Our experience
We Commit to
Customer Satisfaction
and Quality
We understand that picking an electrical contractor for your electrical wiring or panel upgrade can be a tough choice. We strive to save you both time and money by combining experience, high-quality parts and equipment, and exceptional service. We will stick with the job until you are satisfied.
24

+

Year Experience

1000

+

Happy clients

6

+

Qualified experts
A Wide Range of Services to Suit our Clients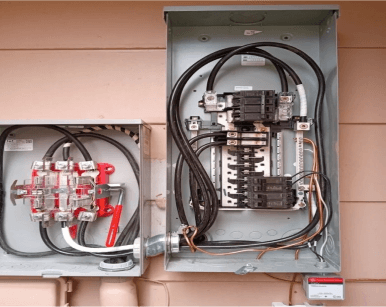 Panel Upgrades/Replacement

Modernize your home's energy hub with our expert panel upgrades and replacements. Ensure optimal performance and safety for years 
to come.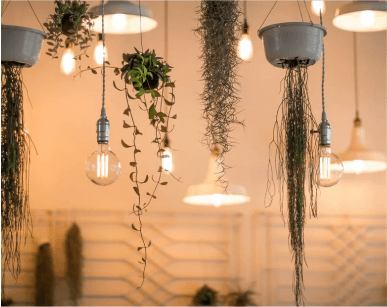 Remodeling Service

Expert electrical services that are tailored for kitchen and basement renovations. Illuminate your transformed spaces with precision 
and safety.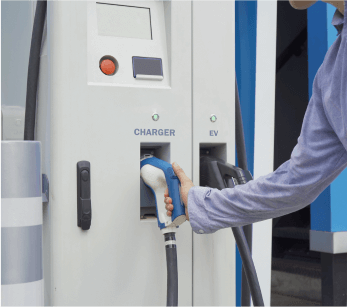 EV Charging Station Installation

Seamless EV Charging Station Installations. Power up your electric vehicle journey with expert precision and reliability.
Our Work
See What We
Can Do Today!
We understand that picking an electrical contractor for your electrical wiring or panel upgrade can be a tough choice. We strive to save you both time and money by combining experience, high-quality parts and equipment, and exceptional service. We will stick with the job until you are satisfied.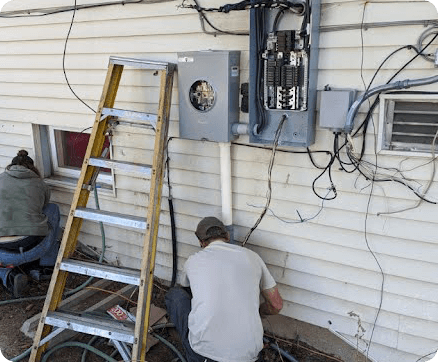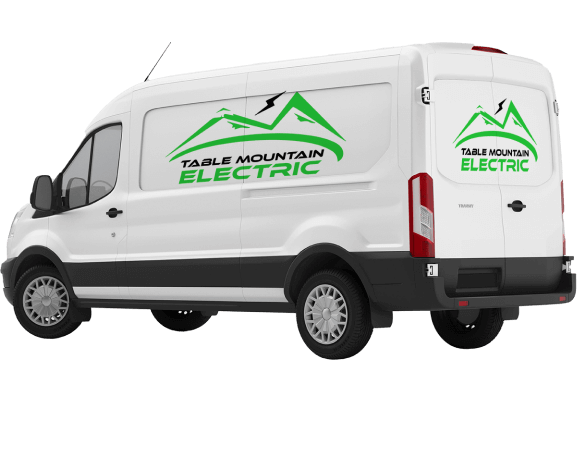 Having a problem?
We'll fix it in no time!
Call us now to get a quick estimate with reliable service. We price our services fairly for all our panel upgrades, panel replacements, and renovations. In fact, we even offer a price match guarantee!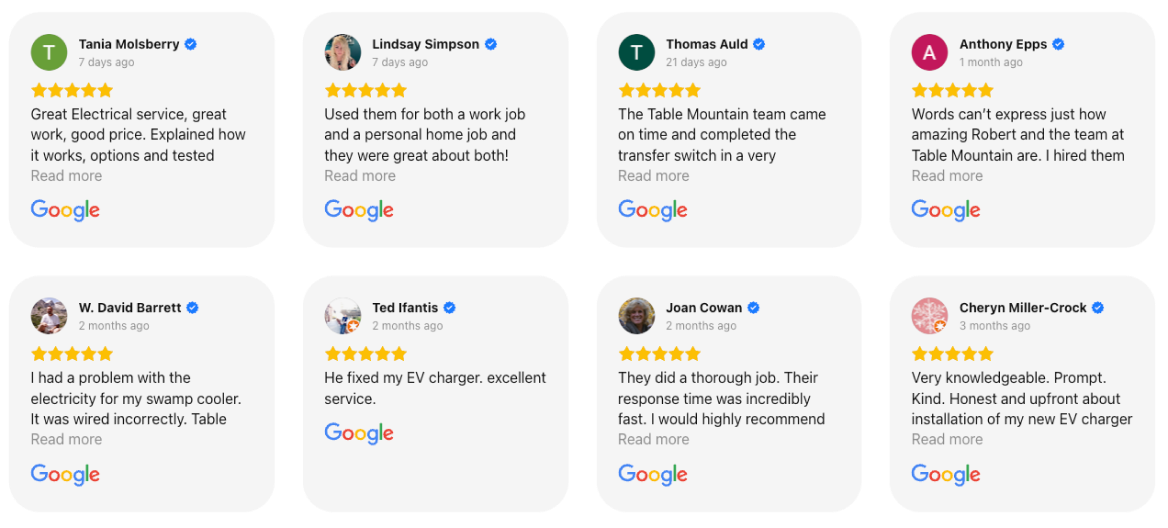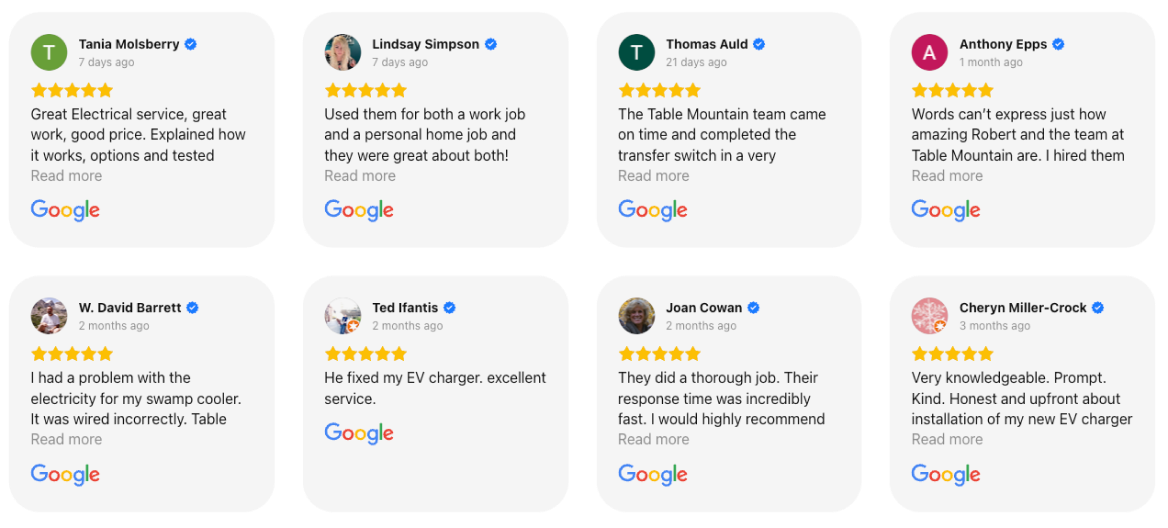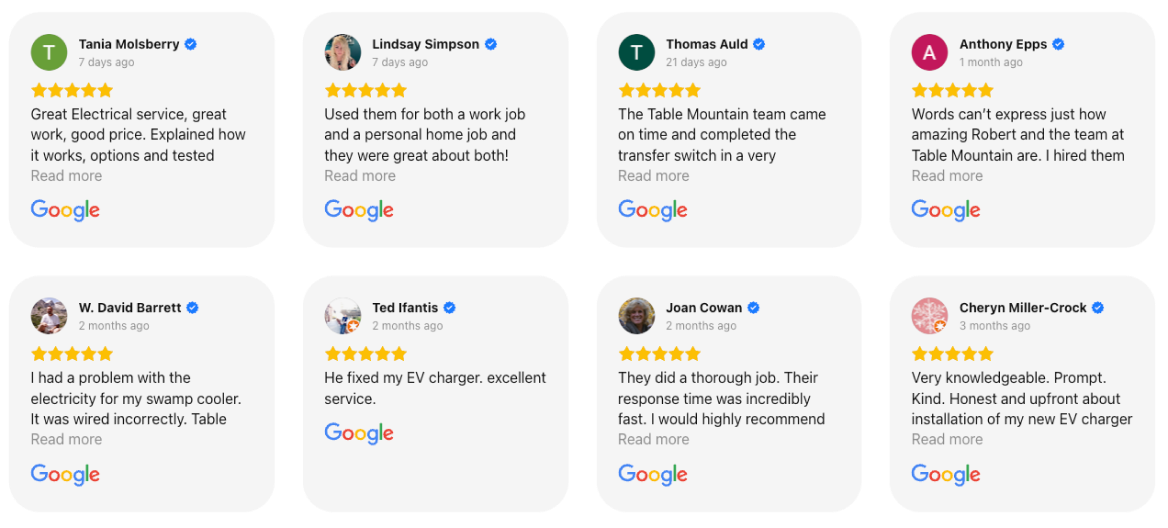 Alex Surprenant
1701297075
There were 2 electricians who came to do the work in my house. They were very amiable and efficient. I would use this service again.
geronimo archuleta
1700076538
Effective and commendable crew.I will recommend them to do the job.
Garrette Reaves
1699577142
I recently had the pleasure of working with Table Mountain Electric, and I couldn't be more impressed with their exceptional service! Russell and Donte, in particular, went above and beyond to ensure that my electrical needs were met.
One of the smoothest electric projects I've had the pleasure of working through. There was communication. Every single step of the way was never kept out of the loop. They did the work on time and did the cost. They originally stated that. 10/10 would recommend
Got the work done in one day. The inspection process took some time but after adjustments were made passed inspection with flying colors.
Great communication and service!
Dominick De Leone
1698174811
I used Table Mountain for a large kitchen remodel. They were amazingly responsive and professional from start to finish. I would strongly recommend them for any and all electrical projects!
Great & competent service. Peter was informative and very good at what he does.
Russell and Donte did an excellent job! They completed my installation with professionalism and precision. Very courteous. Will definitely hire them again for future electrical projects.
Had Table Mountain bring a 60+ year old home into code compliance. Upgraded panel and all outlets/switches and installed a few fixtures and new outdoor outlets. Everyone associated with the project was very knowledgeable and great to answer any questions we had. Each person had a specific job which made communication easy. I believe their price was in line with some others that bid but blew some others out of the water. Those bigger contractors can't compete with these folks. Thanks to Robert, Shane and all the others!
Tania Molsberry
1695206398
Great Electrical service, great work, good price.Explained how it works, options and tested outlets andelectrical system thoroughly.
The Table Mountain team came on time and completed the transfer switch in a very professional mannerThey also answered the phone with any questions and if not they called back in a very promptlyThanks for the great experienceTom A
Words can't express just how amazing Robert and the team at Table Mountain are. I hired them to do a panel upgrade to a larger panel and run a dedicated circuit in my home. The team worked all day and had to clean up the wiring mess left behind by the builder and other electricians . This project was significant and I am very grateful. They got the job done in a single day and they scheduled me in less than a week after I reached out. This is the third project Table Mountain has done for my family since May. They replaced a dated and dangerous electric panel at my mother in law's and aunt's home, they fixed the pre wire for my wife's ev and they did this project. They will be my first and only call for all future electrical needs.
They did a thorough job. Their response time was incredibly fast. I would highly recommend them to repair any of your electrical issues.
He fixed my EV charger. excellent service.
Next Reviews
Blog
Check our
lastest articles
Browse our latest articles covering a wide range of tips and resources that every homeowner can use! From learning when to replace your electrical panel to advice on renovating your new space, we can help.